This workflow will guide you through the process of digitizing archeological features from scan data using Rapidform.
Hint: You can click on any image to see a larger version.
General Considerations
Automatic feature recognition has improved greatly (and continues to improve) but isn't quite up to most archaeological scenarios just yet. It follows that hand drawing, or 'digitizing', individual stones, patches of conservation materials, layers of mortar, etc. on scan data is part of many a project's workflow. For information on drawing 3D vectors on scan data see Part 1 of the Rapidform GMV series.
For purposes of paper publications, sometimes it is convenient to produce a 2D rendering of a 3D object or feature. In archaeology sections, profiles, plans and elevation drawings are commonly used 2D renderings. The 3D vectors characterized from scan data can be converted into 2D drawings. When a 3D dataset is converted to a 2D plan drawing conventions (e.g. line styles, shadings, and hatchings) become essential for conveying information. Conversion is therefore a two-step process; first accurate 2D projections of the 3D vectors describing the feature or object are created, then appropriate drawing conventions are applied. The first stage is easily achieved in Rapidform. The second stage is better accomplished within a CAD, GIS or illustration program which provides finer control over the line artwork.
OPEN A PROJECT
CREATING A REFERENCE PLANE 1
CREATING A REFERENCE PLANE 2
CREATING A REFERENCE PLANE 3
CREATING A REFERENCE PLANE 4
EXPAND REFERENCE PLANE IF NECESSARY
CREATE ORTHOGONAL REFERENCE PLANE 1
CREATE ORTHOGONAL REFERENCE PLANE 2
CREATE ORTHOGONAL REFERENCE PLANE 3
PROJECT 3D SKETCHES ONTO PLANES
PROJECT 3D SKETCHES – CONT.
EXPORT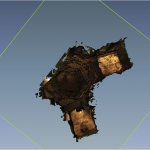 You are reading the series: Digitizing Archaeological Features in Rapidform
Basic Digitizing of archaeological features from scan data in Rapidform: Sections, Profiles, Plans and Elevations