This tutorial uses RapidForm XOR
Hint: Click on any image to view a larger version.
SUBSETTING MESHES IN RAPIDFORM
ACHIEVING MANAGEABLE FILE SIZES
-The meshes produced through terrestrial laser scanning and close range photogrammetry can be very large.
-To facilitate working with the data, it is sometimes useful to subset or reduce the density of the dataset. The desired dataset size might be described through the polyface count, number of vertices, or file size per model.
-Subsetting a mesh will reduce the size of each individual file while maintaining the full resolution of the data, while decimating will reduce the data resolution but avoids splitting the data across several files.

THE SPLIT COMMAND
CHOOSE A SPLIT METHOD
ROTATE THE PLANE TO SPLIT THE MESH
SPLIT THE MESH
SELECT THE REMAINING REGION
EXPORT THE RESULTS
– Export the resulting section of the mesh as a new file to save the result of the process.
Congratulations! You're Done!

Download this tutorial as a pdf.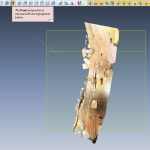 You are reading the series: Rapidform Modelling
Subsetting Meshes in Rapidform