This data were collected as part of the Virtual Hampson Museum Project.  The Virtual Hampson Museum contains nearly 450 3D digital artifacts from the collections located at Hampson Archeological Museum State Park in Wilson, AR.  These artifacts were scanned in full color with the Konica Minolta VIVID 9i laser scanner and were processed in the Polyworks and Rapidform processing suites.  To see more data, be sure and visit the Virtual Hampson Museum.
Data are available for five object in
1)      an original high resolution mesh (OBJ format)
2)      a decimated low resolution mesh (3D PDF).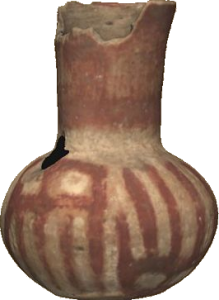 Download high resolution OBJ file for Ark_HM_730
Download lower resolution PDF file for Ark_HM_730
Please note. This data is distributed under a Creative Commons 3.0 License  (seehttp://creativecommons.org/licenses/by-nc/3.0/ for the full license). You are free to share and remix these data under the condition that you include attribution as provided here.  You may not use the data or products in a commercial purpose without additional approvals. Please attach the following credit to all data and products developed there from:
Credit:
Arkansas Natural and Cultural Resources Council, Hampson Museum Staff, Arkansas Department of Parks and Tourism, Arkansas Archeological Survey, Center for Advanced Spatial Technologies, University of Arkansas
Longer version:
The Hampson Virtual Museum was made possible by two granta from the Arkansas Natural and Cultural Resources Council in June 2007and 2008.  Assistance provided by Randy Dennis – ANCRC Program Manager.  Additional assistance was provided by Arkansas Department of Parks and Tourism and the staff of the Hampson Museum including: Marlon Mowdy – Park Superintendent, Hampson Archaeological Museum State Park; Richard Davies – Executive Director; Greg Butts – State Parks Director.  The following staff of the Arkansas Archeological Survey provided invaluable assistance:  Robert Mainfort – Artifact descriptions, 3D Nodena visualization advice; Tom Green – Director.  The Center for Advance Spatial Technologies Virtual Hampson Museum Development Team was made up of: Angie Payne – Project Director, 3D Artist of Upper Nodena Village; Snow Winters-Sasser – 3D Artist of Upper Nodena Village; Keenan Cole – Flash website and database development; Katie Simon – Artifact scanning, processing, and Access database developer; Stephanie Sullivan – Artifact processing; Scott Smallwood – Artifact scanning and processing; Christopher Goodmaster – Artifact scanning and processing; Caitlin Stevens – Artifact processing; Duncan McKinnon – Artifact scanning; Fred Limp – CAST Director and Principal Investigator, Author of Nodena 3D Visualization FAQ Section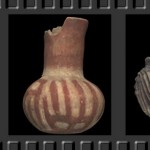 You are reading the series: Virtual Hampson Museum Scanning
Virtual Hampson Museum, Arkansas USA – Artifact Ark_HM_730