Who Can Use the Equipment?_________________________________________________________
CAST field equipment is available for non-commercial use by faculty, staff, and students at the University of Arkansas and cooperating institutions.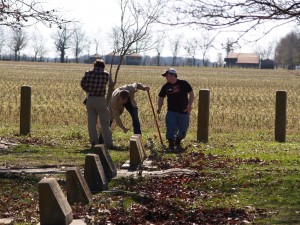 * Student use must be associated with class projects or thesis/dissertation research. Students must provide either instructor and class number, or advisor name.
** Equipment for class use should be checked out by the instructor or TA, who will assume responsibility for all equipment until it is returned upon completion of use.
Condition of the Equipment and Your Responsibilities___________________________________
These instruments have been purchased by federal and state funds for the benefit of the education and research community. CAST strives to keep everything in peak operation condition, and requests that all users do the same.
Equipment needs to be returned in clean condition. All dirt and dust should be cleaned off prior tocheck-in. If instruments require professional cleaning due to internal contamination, the user will be required to pay for this.

If anything did not work correctly, please report it at check-in.

Equipment rental fees are charged to allow CAST to maintain and update equipment and to replace worn out equipment. See more details on the equipment rental fees on the GMV Equipment Use Cost page.

If your project is funded by federal dollars (NSF, etc., or any federal agency), the rental rate will only cover operational costs, as it is prohibited to recover capital costs for equipment purchased with federal funds.
Damage or Loss______________________________________________________________________
The University of Arkansas Building/Property insurance policy covers damage or loss to all scheduled field equipment, with a deductible of $25,000. Persons checking out CAST field equipment must have departmental approval from their Departmental Chair/Head that the department will be responsible for un-reimbursed losses.Departments are liable for any damage or loss up to the cost of this deductible (see the University of Arkansas Insurance Information for detailed policy on Building/Property Policy effective 7/01/11 – 7/01/12).
It is recommended that individuals in departments that anticipate checking out equipment coordinate in advance with their Chair/Head. Loss or damage to the equipment in selected locations around the world is NOT covered by the current UA policies. If you anticipate use in these locations the department will be responsible for ALL losses. You should contact the UA Risk Management office for a current list of excluded countries.
Checking Out/In___________________________________________________________________
The equipment check out / check in process is managed by either Malcolm Williamson or Vance Green. They can be contacted at

malcolm@cast.uark.edu

or

vance@cast.uark.edu

or by calling 479.575.8614. You should contact them and schedule your check-out and check in as one of them will need to be present at that time. In addition, place your request on the GMV Equipment Checkout request page.
Steps to Checking Equipment Out



2. Request equipment by filling out the form at the GMV Equipment Checkout request page.
3. Equipment check-out must be scheduled in advance with the Field Equipment Manager or proxy,who will contact you via e-mail once you have submitted the Equipment Request form.
4. In order to assure that equipment will be prepared on time, requests for all major systems (3D scanners, imaging sensors other than digital SLRs, geophysical equipment, surveygradeGPS) must be made at least two weeks in advance of the date needed; requests for minor systems (cameras, mapping-grade GPS) must be made at least one week in advance of the date needed.
5. If you are taking equipment out of the country or any place far from Fayetteville, it is highly recommended that you schedule a day to test all equipment well before leaving. It is not possible to accurately judge the condition of rechargeable batteries without testing under real-life conditions.
6. Although we will try to accommodate all requests, there will occasionally be overlapping or duplicated requests for equipment. Final scheduling decisions are at the discretion of the Director of CAST.
Steps to Checking Equipment In
1. Check-in must also be scheduled with the Field Equipment Manager or proxy (in general the person who assisted you in checking out the equipment). You are responsible for all equipment until it is officially checked-in. Do not drop off equipment unless you're scheduled to check it in.
2. Extension requests: All equipment is due back by scheduled check-in time, unless an extension has been arranged in advance with the Field Equipment Manager. Extensions must be requested

before

the check-in time has elapsed. Remember, others may have reserved the same equipment. Although you may check the GMV Equipment Calendar for availability, you must discuss all extension requests with the Field Equipment Manager directly.
Software_________________________________________________________________________
Necessary software to use with field equipment will be identified by the Field Equipment Manager when responding to your equipment use request. In most cases, this software will be included with the equipment that is checked out, usually on dedicated CAST field notebook computers. Please be aware that some of this software may not be readily available after the equipment has been checked in. Be sure to discuss your needs with the Field Equipment Manager.