Featured Post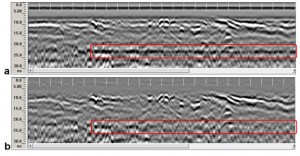 Designing a Field Strategy
Geophysics is the study of the Earth by quantitative physical methods, particularly through the measurement of electrical, magnetic, and other physical properties. At CAST, we specialize in using high precision instruments for investigating the shallow subsurface (uppermost 5 meters in most cases) to answer primarily archaeological questions. Other research objectives include the study of paleoenvironments as well as using geophysics to accurately map urban infrastructure.
Our research has recently focused on improving field methodologies, data processing, and interpretation to make geophysics more accessible to archaeologists. We are also researching how subsurface instruments can aid in modern construction processes on the University of Arkansas campus. The Center has three geophysical instruments, details of which can be found at Hardware. CAST also has an extensive suite of processing software, details can be found at Software.
For more information about geophysics at CAST contact: Eileen Ernenwein or Jackson Cothren.